Ray Rice may have thrown the punch, but right now, he's the one reeling, about to get knocked out cold. The former Baltimore Ravens running back didn't know what hit him as soon as the video of him punching his ex-fiancé-now-wife surfaced in the media back in September. Immediately, anti-domestic violence groups swooped down on the NFL—including 16 U.S. female senators, no less—demanding that the sports organization implement a zero tolerance policy against domestic violence.
Feeling the pressure to make an appropriate response, the NFL put Rice on an indefinite suspension. Meanwhile, the Ravens, in a bid to disassociate with him, cut him out of the team, leaving Rice to protest this decision.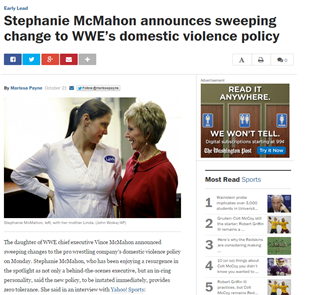 Following this, the calls for zero tolerance policies keep getting louder. According to The Washington Post, Stephanie McMahon—WWE executive, in-ring personality, and daughter of chief executive, Vince McMahon—discussed the sweeping changes made to their internal policy through a Yahoo! Sports Interview—a move, she admits, that was instigated by the Rice case:
We have a zero tolerance policy for domestic abuse. Upon arrest for such misconduct, our superstars are immediately suspended and should there be a conviction, that superstar or diva would be terminated.
The official WWE website also mirrors the younger McMahon's statements:
WWE has zero tolerance for matters involving domestic violence, child abuse and sexual assault. Upon arrest for such misconduct, a WWE talent will be immediately suspended. Upon conviction for such misconduct, a WWE talent will be immediately terminated.
As embodied in Rice's case, and the consequent changes made in the WWE policies, the imposition of penalty under the zero tolerance policy is swift and severe: instant termination and deprivation of economic opportunities. And that's just on top of the potential deprivation of civil rights and liberties as well.
As it is, bias against domestic violence perpetrators is so burdensome, that the accused is already hard pressed to prove his innocence to the public, even before the case actually gets to court. With so much at stake, it bears no question, therefore, as to the importance of hiring a credible criminal lawyer in Tacoma, and elsewhere in the nearby Washington counties. There's no leaving this issue to chance, given the grave repercussions attached to the offense, should the accused be found guilty.
Although the public perception odds may not be in the accused's favor, it is worth noting that it is, in fact, possible to find an efficient criminal defense attorney in Tacoma, and the surrounding areas, such as from the Law Offices of Kim E Hunter. Anyone beleaguered by a domestic violence case can rely on a dedicated, caring, competent, and affordable legal representation, if only they seek it.
(Source: Payne, Marissa. "Stephanie McMahon announces sweeping change to WWE's domestic violence policy," The Washington Post. October 21, 2014.)