In Seattle, or in any other area in Washington State like Kent or Tacoma, police officers can only ask drivers to pull over if they have reasonable suspicion to do so. However, KOMO News recently reported on how a man made himself susceptible to a DUI arrest when he drove smack into the rear end of a police officer's car.
"A Drug Recognition Officer responded and processed the driver of the at-fault vehicle for DUI, according to police reports.

Both the police officer and driver of the third car sustained minor injuries and were later released."
The situation may seem like a good material for a comic sketch, but in Washington State, being arrested for DUI is no laughing matter. While there is no further account of what happened to the aforementioned male driver after his arrest, there is a strong likelihood that he needed the services of an experienced Kent DUI attorney. After all, Washington's drunk driving laws are considered the toughest in the nation, so anyone accused of violating these laws will need an attorney to avoid stiff penalties.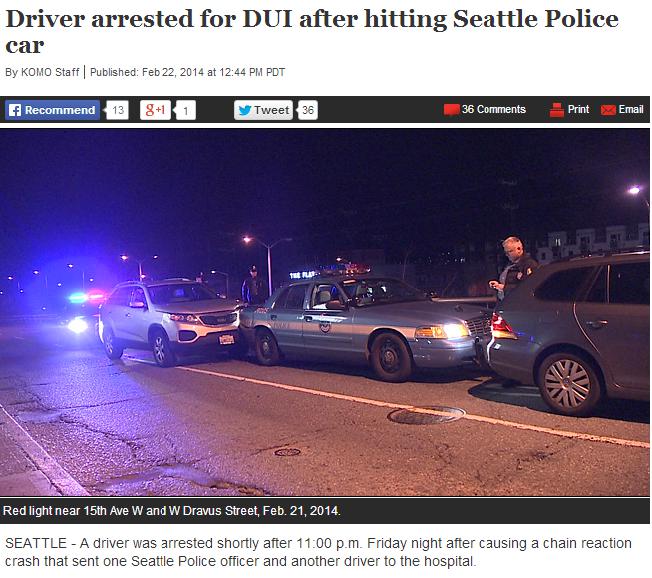 In the state, a blood alcohol content (BAC) of 0.08 percent or higher is subject to a DUI arrest for drivers aged 21 and older. For drivers under 21 years old, a BAC of 0.02 percent is enough for a DUI arrest. In some cases, the mere presence of alcohol in a teen driver's system can make him vulnerable to a DUI arrest.
Washington laws, however, don't mandate that drivers submit to a breath test to determine BAC level, so drivers can refuse to take the test if they feel it will not serve their case well. However, those who do refuse to take the breath test can face an automatic license suspension for one year, and may have to pay a hefty fine. Individuals arrested for DUI should therefore consider turning to a skilled DUI defense lawyer in Kent to formulate a well thought out defense strategy that can help reduce or avoid strict penalties.
Reliable DUI lawyers, like Attorney Kim E. Hunter, will look into the circumstances of a case, and study the defense strategies that they can use to protect their clients. For instance, if a police officer failed to follow all legal procedures in making the arrest, the DUI case can be dismissed. Any test results or evidence arising from an unlawful or faulty arrest may also be deemed inadmissible in court.
A DUI arrest in Washington State is a serious matter. For this reason, those who are arrested for this offense should not take chances and immediately call on attorneys that can properly defend their rights.
(Source: Driver arrested for DUI after hitting Seattle Police car, Komonews.com, February 22, 2014)