Various locales in Washington State have begun to crack down more actively on suspected DUI offenders as of late, raising the potential need for a skilled Kent DUI attorney or DUI defense lawyers in nearby locales. As Q13 Fox News correspondent Tom Yazwinski reports:
The Washington State Patrol will pour extra resources into this busy holiday driving weekend as a number of impaired drivers will likely get behind the wheel.

Officers say they have already arrested dozens of suspects for driving under the influence of alcohol this holiday weekend. In King County, cops arrested 39 suspects for DUI by Sunday afternoon. Officers in Pierce and Thurston counties had cuffed 26 DUI suspects."
Known throughout the nation for having the toughest DUI and DWI laws yet, the state of Washington has initiated the crackdown on intoxicated drivers to implement a new law recently signed by Governor Jay Inslee.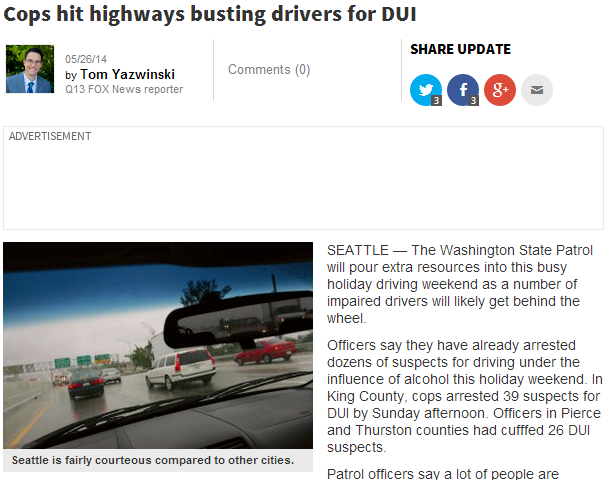 Primarily moved by the stories of drunk driving victims and the rising number of fatal crashes in the state, Governor Inslee enacted the law that set the legal blood alcohol content (BAC) limit to .08. Alongside this new limit, the law also imposes mandatory arrest of an individual on his second DUI/DWI offense and the installation of an interlock device on the vehicle within five days after being charged.
Another provision of the law states that while a driver may escape conviction, he (or she) can have his license suspended. After the arrest, if the suspected driver takes the breath test and tallies a reading at or above the legal limit, or, in such cases where the driver refuses the test altogether, the Department of Licensing (DOL) will hand down a notice of suspension of the driver's license.
Gov. Inslee's signing of the new law lies in the wake of several recent fatal accidents involving drunk drivers in the state. One notable instance was of Seattle native Dan Schulte's family. Schulte's elderly parents were killed, and his wife and infant son were seriously injured after an allegedly intoxicated man ran over the victims as they crossed the street. However, while Schulte noted that the legislative body's efforts are commendable, more legal measures still need to be put in place to deter drunk drivers from getting on the road and causing accidents.
With the reworked law now in effect throughout the State (and the nation's toughest, at that), anyone who gets busted after having had more than a few drinks would need a strong advocate in the person of an experienced Kent DUI lawyer from firms such as the Law Offices of Kim E. Hunter, PLLC. Having a skilled DUI defense ally by your side gives you a better than average fighting chance of getting off the legal rut.
(Source: Cops Hit Highways Busting Drivers for DUI, Q13 Fox News, May 26, 2014)