Washington State is well-known for its harsh DUI laws. With a first offense rating jail time ranging from a day to a year and a fine that can reach up five thousand dollars, it is a good idea to get a skilled Tacoma DUI attorney to represent you in court when brought up on DUI charges. A lawyer well-versed in DUI law would be able to assist you in handling the case.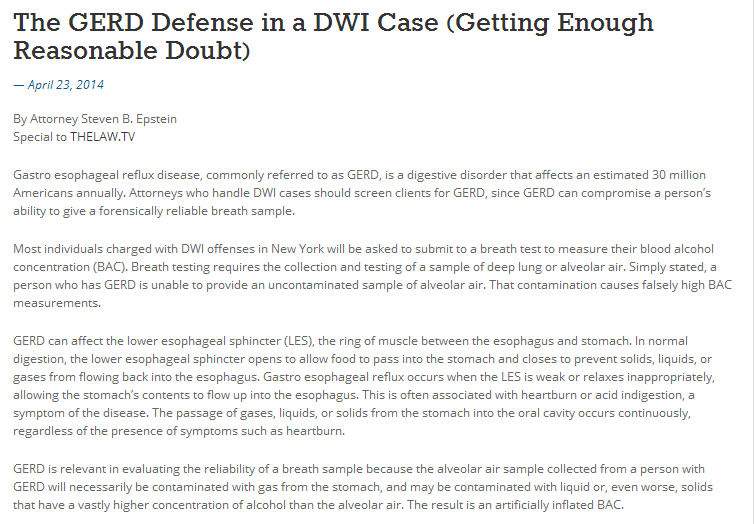 One of the possible defenses that a knowledgeable attorney would use is the GERD defense. Gastric esophageal reflux disease is a digestive condition that affects over thirty million Americans each year. An article by attorney Steven Epstein for Law.TV details how this particular malady affects DUI cases:
"GERD is relevant in evaluating the reliability of a breath sample because the alveolar air sample collected from a person with GERD will necessarily be contaminated with gas from the stomach, and may be contaminated with liquid or, even worse, solids that have a vastly higher concentration of alcohol than the alveolar air. The result is an artificially inflated BAC."
The high blood alcohol content can often lead to a mistaken arrest for DUI. A medical test for GERD is one of the possible steps that an experienced Tacoma DUI lawyer like Kim E. Hunter would take to ensure that their client is not suffering from this condition. An endoscopy would be required to confirm it, but the minor discomfort is worth it to be cleared of DUI charges. Another tactic to cast doubt on the high BAC rating is to claim that the Breathalyzer is only analyzing the alcohol in the mouth from a recent drink.
Two other strategies that can be used to fight a DUI arrest are to give another reason for your erratic driving and to contest the results of the field sobriety tests administered to you. For the former, a driver can display the same symptoms of driving drunk because of lack of sleep or mechanical problems with the car. As for the latter, failing the sobriety tests is not proof enough that you are dangerously intoxicated; a person may not pass these tests for other reasons like being nervous or being distracted. All of these tactics and more can be used by an excellent lawyer to defend you from being declared guilty of driving under the influence.
(Source: The GERD Defense in a DWI Case (Getting Enough Reasonable Doubt), Law.TV, April, 23, 2014)